GEUA VADA TAU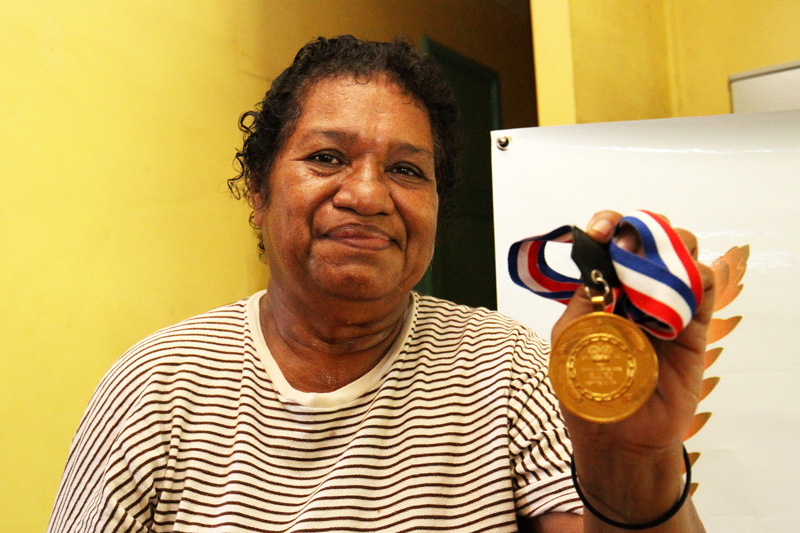 THE FIRST GOLD MEDAL: Geua Tau with PNG's first ever Commonwealth Games gold medal. PHOTO: A. Molen/ PNG Olympic Committee.
NAME: Geua Vada Tau, MBE
SPORT: Lawn Bowls
GENDER: Female
DATE OF BIRTH: 3rd March, 1957.
HOME PROVINCE: Central Province.
ORIGIN: Elevala, Gabagaba, Kalo, villages.
FAMILY
Married Tau Tau in 1976. He passed away on 19th May, 2014.
Geua has eight brothers and four sisters. Among them, her eldest brother, Heni Vada and the second last brother, John Vada have passed away.
Her father, Vada Heni, married twice with Geua is the eldest of the girls from the second marriage. Geua's siblings are from these two marriages.
PNG'S FIRST COMMONWEALTH GAMES GOLD MEDALIST
Geua Tau first stepped onto the bowling green in 1981 at the Boroko Bowling Club without knowing that nine years later, she would make history by winning Papua New Guinea's first ever Commonwealth Games gold medal.
Geua had always loved sport and played all the games she could during her primary school days at the Hagara Primary School in Port Moresby.
She followed cricket at and tennis at an early age and when the FIFA World Cup was on, she would switch to football. Geua also liked to watch lawn bowls but did not practice or compete in it yet.
There was also a lot of sporting influence in Geua family with her brother, John Vada, a Papua New Guinea international in cricket. Her two other twin brothers, Tau and Solo played Australian Rules Football.
When Geua graduated to the Badihagwa High School to do her forms one to four (grades 1 to 7), she got into athletics and tried her hand in javelin and the sprints.
Half way through her form four (grade 10), Geua was among three students selected to go study at the Essendon High School and the Glenroy Technical College in Melbourne, Australia for three months. While there, she did not lose her interest for sport.
From 1974 to 1975, Geua studied at the Sogeri National High School. During that time she got into netball and softball. Her interest in softball began when she used to follow her older sister, Hane, who played for the Taubar club in the A Grade division of the Port Moresby town competition.
Geua said she loved sport and hoped to represent her country one day in any of the games that she competed in.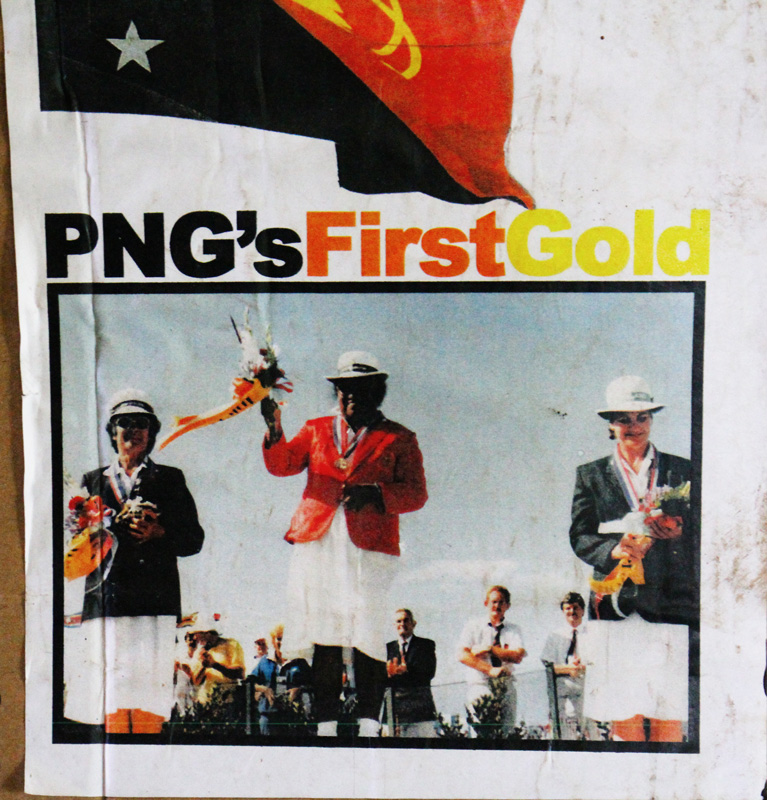 FRONT PAGE: A copy of the newspaper front page capturing Geua and PNG's special moment. PHOTO: Courtesy of Geua Tau.
She married Tau Tau in 1976 and had their first child a year later after they moved to Mt. Hagen. Tau had begun bowling by then and was good at it. Geua would go with her husband whenever he went to play at the club.
Over time she grew interested and in 1981 she tried the game for the first time. The game came naturally to her as she kept improving rapidly. After having their second child in 1982, Geua returned to the green the following year but had not lost her touch.
She decided to compete in the novice singles competition and won it out of 12 challengers. This motivated her and she went on to play in the club's A and B grade events which she also won. Geua also won in the doubles and pairs and soon she started representing the club at other centres around the country.
Geua's first call to represent Papua New Guinea came in 1986 for the Commonwealth Games in Edinburgh, Scotland. Unfortunately, Papua New Guinea boycotted the event and did not attend.
In 1988, Geua was selected to represent Papua New Guinea again, this time to compete at the World Bowls Championships in Auckland, New Zealand.
ON THE GREEN: Geua Tau in action during a competition. PHOTO: Courtesy of Geua Tau.
When the 14th Commonwealth Games came in 1990, Geua had already established herself as an elite athlete in her sport and was one of the senior members of the team.
Her husband, Tau who also made the team had an argument with Geua the night before and the morning before her semi-final match, and by a strange turn of events, pushed her to beating her much-fancied opponent, Margaret Johnson from Wales, to secure her place in the gold playoff.
In the final, Geua faced an opponent from Canada. Geua's day had not started well but she did not feel nervous even though she was going up against a much better player.
She was leading 3-0 when Tau turned up and distracted her which saw the Canadian jump ahead 15-3 in score. She found out that Tau had come to apologize and support her. After a refreshing break, Geua caught up 15-15 and then went on to win 25-23.
Geua said she was happy with the win but there was not much reaction. She did not know too that she had made history.
It was special moment for the Papua New Guinea team and one Geua treasures. She went on to compete in other international events after that and still dominates the competition whenever she plays.
In recognition of her achievements and success, Geua was presented with an MBE from the Queen and was also presented with a key for the city of Port Moresby by the city manager.
As a legacy, she wants to see better and transparent running of Bowling clubs and associations in the country so that more people and good players can continue to enjoy the game like she did when she first fell in love with the game.