Iammo Gapi Launa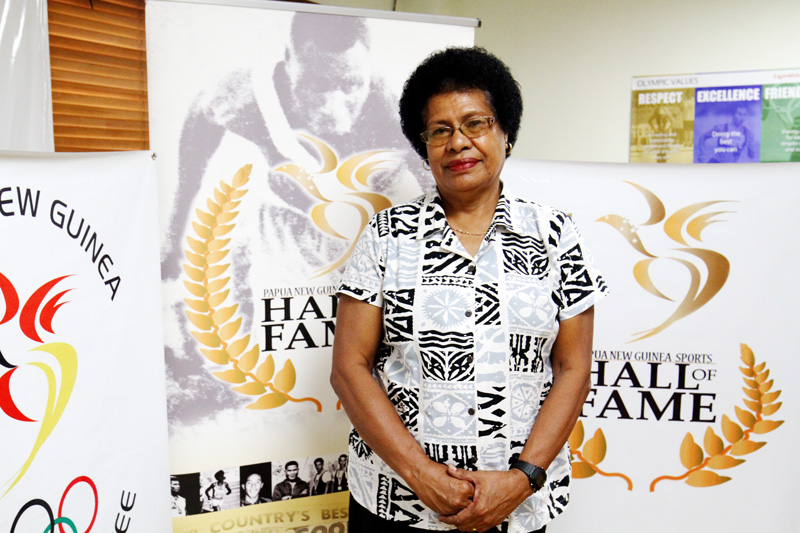 Iammo Launa, a multi-talented champion.
NAME: Iammo Gapi Launa, BEM, MBE, OBE.
SPORT: Athletics, Netball, Softball
GENDER: Female
DATE OF BIRTH: September 16, 1958.
HOME PROVINCE: Central Province.
ORIGIN: Kalo, Central Province.
Career of Iammo Gapi Launa
Iammo Gapi Launa was born in September 16, 1958 at Kalo in Central Province.
In 1973, at Kwikila High School Iammo began her long involvement with Athletics, competing in inter-house and inter-schools' competition. As a member of the Southern Region High School Team she travelled to competitions in Lae, Madang, Daru and Goroka. At this time Iammo was mainly a sprinter, and one of her high school coaches was Raki Leka.
While making her mark as a junior athlete, Iammo was also participating in Netball, Volleyball, Basketball, Softball and Hockey.
In the 1975 SPG in Guam, Iammo was the captain of the PNG Volleyball Team. From 1976 – 81 she was captain of the PNG Netball Team to the SPG (Suva in 1979), and the Inaugural Mini Games (Honiara 1981), plus Asian and Australian invitational tournaments.
In 1983, Iammo was persuaded by many people, including Veitu Diro (Netball), Paul Pervan (President of Athletics PNG) and Tom Brandt (NSI) to once again take Athletics seriously. Paul was an experienced throws coach and successful former New Zealand athlete. He quickly saw Iammo's potential in the throws and the former sprinter now had a whole new series of events in which to experiment. Good throwers need strength, but technique and speed are the key ingredients. Iammo had all of the pre-requisites to be a very good thrower.
Success came quickly. With her good all round speed, explosive power, and new-found throwing ability, the Heptathlon soon became one of Iammo's main events.
Iammo Launa is the most complete all-round athlete that PNG has produced. Her record between 1983 and 1998 is outstanding.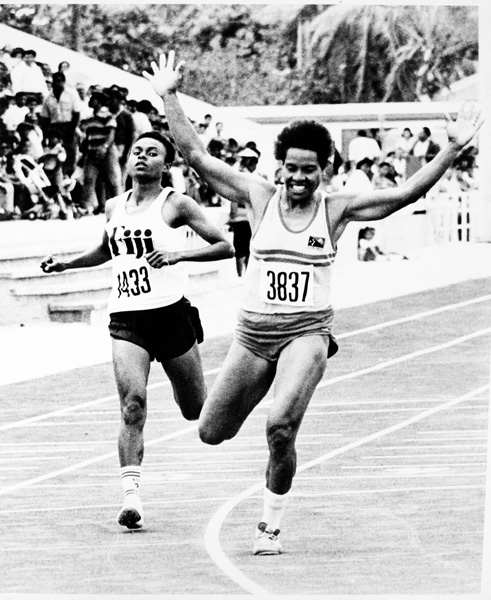 FAST FINISH: Iammo Launa finishing first in the sprints: PHOTO: Courtesy of Iammo Launa.
She won three gold medals in Pacific Games competition (Javelin in 1991 and the Heptathlon in 1983 and 1991). In addition she won three other medals. In Pacific Mini Games competition she won four gold medals (100m in 1989, 200m in 1989, and Heptathlon in 1985 and 1989). In addition she won two other medals.
Iammo holds the current Pacific Games Record for the Heptathlon – 5037 points, set at the Mini Games in Nuku'alofa in 1989.
She holds the PNG National Record in five events – the Shot Put (1991), Discus Throw (1993), Javelin (2001), Hammer (1997) and the Heptathlon (1989).
She has won an unprecedented 50 PNG National Championship Titles in nine different events - the 100m (1989 & 1990), 200m (1990), 100m Hurdles (five times between 1985 – 1990), High Jump (1984), Long Jump (1984), Shot Put (13 times between 1983 – 1997), Discus (10 times between 1983 – 1997), Javelin (15 times between 1983 – 1998) and the Heptathlon (1988).
On the world stage, her career is incredibly impressive.
She has represented her nation at two Olympic Games (Los Angeles in 1984 and Seoul in 1988), three IAAF World Championships (1987 in Rome, 1991 in Tokyo, 1993 in Stuttgart), two Commonwealth Games (1990 in Auckland and 1994 in Victoria, British Columbia) and six Pacific Games / Mini Games (1983 in Apia, 1985 in Rarotonga, 1987 in Nouméa, 1989 in Nuku'alofa, 1991 in Port Moresby and 1995 in Tahiti).
In addition she has excelled in numerous other major competitions in Oceania, Arafura, Australia, Europe and Asia.
Throughout her long sporting career, the honours have continued to flow.
The B.E.M. (1986), M.B.E. (1993) and the O.B.E. (2010) were vice regal awards that were bestowed on Iammo. Other awards, for recognition of her contribution to sports were – the IAAF Diploma in Athletics (1988), Female Athlete of the Pacific (1989), and the S.P. Sports Award for Distinguished Services to Sport (1993).
Iammo's most exciting moment in sport came in the Heptathlon in the 1984 Olympic Games in Los Angeles. In her Javelin pool Iammo finished ahead of Jackie Joyner-Kersee (USA), the overwhelming favourite for the gold medal and idol of the crowd in the Coliseum. The US crowd was stunned. Most had never even heard of Papua New Guinea. A very special PNG Olympic moment.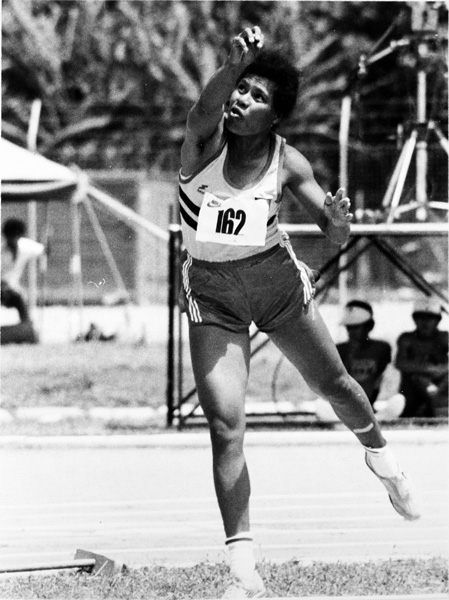 THROWING: Iammo competing in the javelin event. PHOTO: Courtesy of Iammo Launa.
Other memorable highlights where her two gold medals in front of her home crowd in 1991 – the Javelin gold (49.68m) on the first day of the Athletics was especially satisfying. One of the officials in this competition was Iammo's late husband, Kila Launa. Five days later Iammo won gold in the Heptathlon with 5018 points for a new Games Record and PNG all Comers Record.
Apart from her individual actions in the field and on the track, Iammo gained much satisfaction from captaining PNG Teams in Netball and Volleyball. In the 1995 SPG in Tahiti Iammo was the only person in Team PNG to represent her country in two sports – Athletics and Netball.
Iammo issued a challenge to all current PNG athletes to strive to be the best they can, and be disciplined in their approach to their chosen event. She really wants the 2015 PNG athletes to do well on their home ground. It is a fantastic feeling that must be experienced to be believed.
Today Iammo is on the Board of Cricket PNG. Athletics PNG could certainly use her incredible wealth of experience in the years ahead.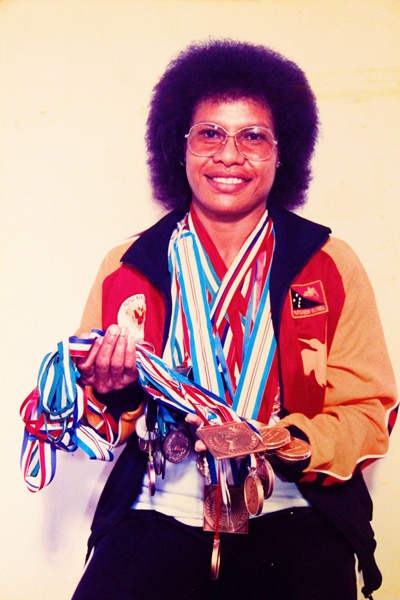 SPOILS OF VICTORY: Iammo Launa with her collection of medals. PHOTO: Courtesy of Iammo Launa.